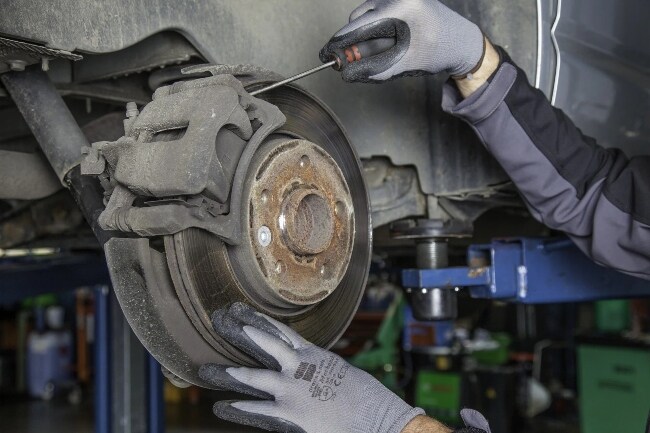 If you're a car owner, you already know how important routine maintenance is. Chance are, when you take your car in for a tune up, the actions taken by the mechanics on duty are most likely completely foreign to you. After all, today's cars are more complex than ever and have a wide array of onboard computers and sensors. Having basic knowledge will allow you to diagnose and solve basic problems that your vehicle might have.
Checking Tire Pressure
Like the old advertisement for Michelin once stated "you have so much riding on your tires." Maintaining the structural integrity of your tires is very important. While dodging potholes and debris while driving is one thing, checking the tire pressure at least once a month is a great preventative measure for future problems.
Carefully remove the stem cap from your tire and apply a tire gauge. You'll hear a slight hiss. This signifies that the gauge has made a reading
Check the reading and make sure it fits the specific parameters of your vehicle
If pressure is low, take your car to a service station for air
How To Perform a Jump Start on Your Car
Just like the CD player you had in high school; a dead battery can hinder your plans. Luckily, a jump start can help you get back to a relative state of normalcy. (Most cars come equipped with a pair. If not, they're available for purchase at many auto parts stores.)
Use the cables to connect the positive and negative ends to the terminals on your battery. (Red for positive, black for negative) Do the same for the battery on the car giving you the jump start.
Turn on the vehicle to begin the charging process
Properly Checking the Oil Level in Your Engine
Keeping oil in your engine is what allows it to function without overheating and sustaining irreparable damage. While keeping an eye on the warning light is always advisable, checking the level in your engine from time to time will let you know when you should add a quart or two.
Wait until your engine is off, then remove the dipstick from your car's oilwell
Wipe down the dipstick, reinsert it into the oil well and retrieve
The reading on the dipstick will give you an accurate assessment of your current oil level.
For more maintenance advice, including scheduling your next tune-up, visit the experts at Island Auto Group. An extensive inventory and top-notch service are both awaiting you. Visit us online at islandautogroup.com and don't leave your car's well-being to chance.
Make an Inquiry
* Indicates a required field