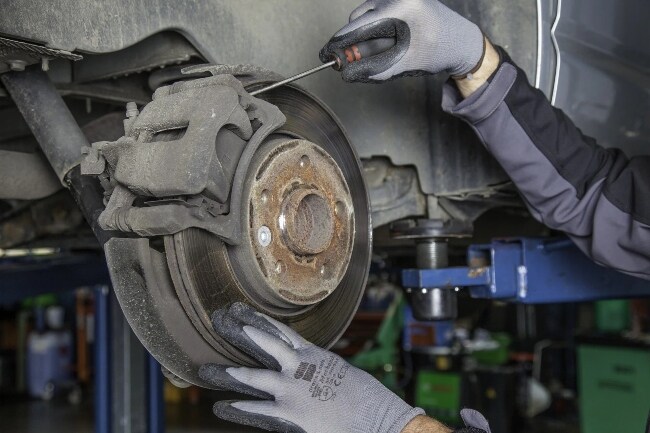 Your brakes are one of the most important parts of your car. Without well-functioning brakes, you cannot drive safely. To learn more about brake service, continue on.
Q: How do brakes work?
A: An entire system of parts works together to bring your vehicle to a safe stop. When applying your foot to the brake pedal, the cylinders that supply brake fluid to the calipers activate. Then, pressure from the brake pads is applied to the rotors. This creates friction, which brings your vehicle to a stop.
Q: What is a brake inspection?
A: When you take your vehicle in for a brake inspection, a professional mechanic evaluates the entire brake system. This includes the master cylinder fluid exchange, wheel bearings, grease seals, fluid condition, parking brake cables, hoses, hardware, wheel cylinders, rotors, drums, calipers, and pads. During the inspection, a professional make sure every part is in good shape and performing its job as intended. If any pieces are worn, broken, or malfunctioning, a mechanic will then go on to replace or repair any parts to make sure you can operate your vehicle safely.
Q: How often should I have my brakes inspected?
A: You always want to make sure your brakes are functioning up to par. You should have your brakes checked at least once a year. Consider having your brakes inspected whenever you receive an oil change. You should also always schedule an appointment with a professional if you feel or hear anything unusual when you put your foot on the brake pedal.
Now that you know how the brake service works, you're ready to have your brakes inspected at Island Auto Group. You can visit any of our locations to work with a team of skilled, professional mechanics. Find our locations along Hylan Boulevard in Staten Island, NY.
Make an Inquiry
* Indicates a required field